43mm Downhole Video Tool
KATEYE™ Downhole Video Tool runs with Surface Read Out (SRO) mode by E-line or Memory Mode by Slickline,Drilling Pipe and Coiled Tubing. It is useful in Oil & Gas well industry, water well industry, as well as in geothermal and gas storage bank inspection.
By updated high-temp lens modules, the tool provides high definition images/videos which cover the entire downhole casing inner wall from 2-3/8" up to 26" casing/tubing. The video quality has been guaranteed by unique illumination and lens design.
KATEYE ™ Downhole Video Tools are compacted designed which is fast transportable by air transportation or hand carry by engineers.

KATEYE™ Downhole Video Tools-43mm.pdf
Features
Bi-directional digital telemetry communication system gives full control over video functions and ensures maximum flexibility. The intensity of the LED lights can be controlled from surface to achieve the best illumination condition.
Both side-view and down-view are controllable from surface.
Side-view is for checking the detailed images of the well wall, and down-view will provide a full image of the hole.
The KATEYE ™ Downhole Video has dedicated lens. The side-view lens can be rotated with 360 degrees to cover the entire well walls. So you can see the corrosion or cracks, and it will provide you with a clear picture of casing wall.
The KATEYE ™ Downhole Video has equipped one of the world fastest telemetry modules, and make sure the picture has the best quality and refreshing rate compare with competitors.
Applications
Imaging dropped objects and wellbore fish

Mechanical inspection of wellbore hardware

Inspection and monitoring of corrosion and erosion

Detecting water/gas/oil entry

Perforation checking

Coal bed methane wells

Open hole imaging
Technical Specifications
Diameter

43mm (1-11/16")

Pressure rating

1,5000 psi

Max Temperature

150℃(302℉)

Camera

Full Color

Connection

1-3/16 12UNF (GO Type)

View of angle

Side-view / Down-view

Max Transmission rate


Realtime rate: ∽1 frame/s mono-cable

Memory rate: 11 frame/s

Casing/tubing size

Up to 26"

Well fluid

Water/Gas/Oil well

Cable

7/32", 5/16" mono-conductor cable,slickine

Logging mode

Surface Read Out / Memory Mode
Memory Capacity

4 GB
Battery

More than 10 hours battery working life time
Downview Images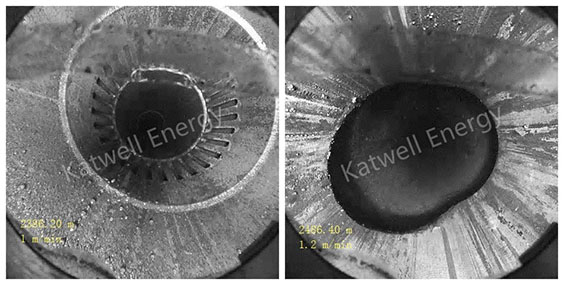 | | |
| --- | --- |
| Sliding Sleeve | Sliding Sleeve |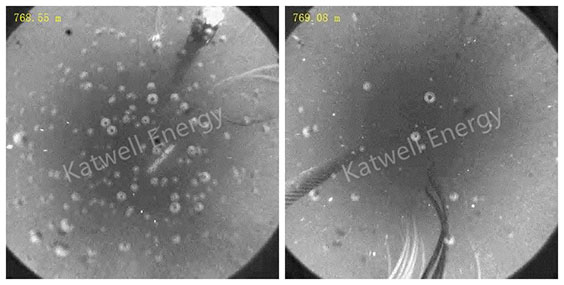 | | |
| --- | --- |
| Fish for Damaged Cable | Fish for Damaged Cable |
Sideview Images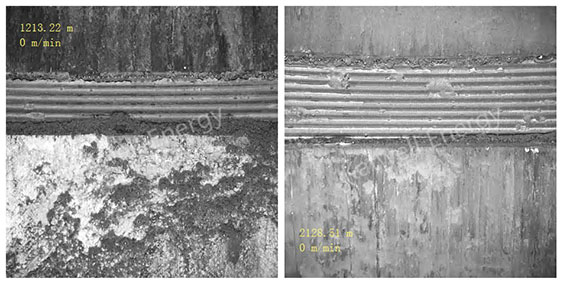 | | |
| --- | --- |
| Casing Weld Seam | Casing Weld Seam |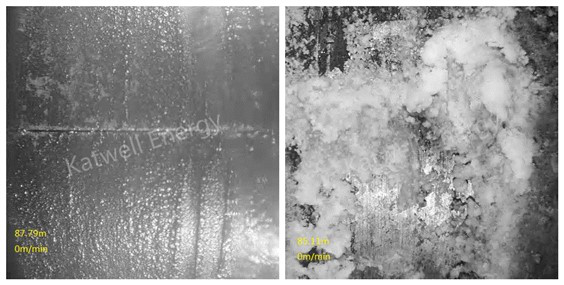 | | |
| --- | --- |
| Gap Inside the Valve | Ice on Tubing |
For more information, please contact us.
General lnquiry:
Mr. Zhang:13772185982
Email: zy@katwell.com lyp@katwell.com