Downhole Motor
Introduction
Katwell can supply series of products to nearly 100 kinds which can satisfy all kinds of requirement onsite and can be provided in all sizes. At present, micro-borehole downhole motor can can be narrowed down to 43 mm; Anti-corrosion downhole motor can be applied in salt-saturated and diesel drilling fluid ; Gas/foam downhole motor can be applied in under balance drilling using air, nitrogen, diesel gas, foam and aerating mud. Up to now, Katwell can provide equal wall thickness downhole motor in all needed sizes.
As the large-scale development of shale gas, Katwell supply high performance and long-life downhole motor based on the requirement of high ROP in unconventional development. The innovative downhole motor has been upgraded in rubber material, rotor surface spraying and mechanical structure, which prolong the service life significantly.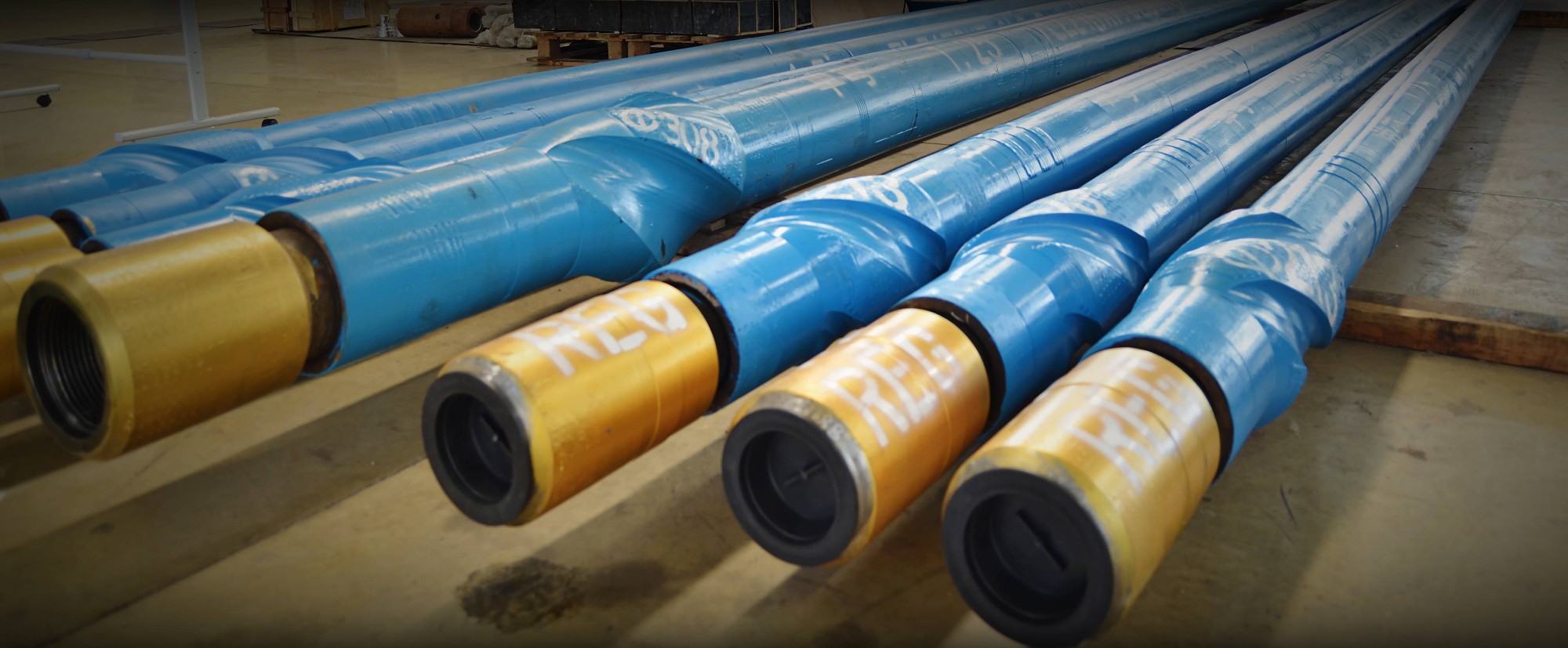 Technical Highlight
1. Excellent motor performance
The core components of the rotor and stator core shaft have been processed by state of art latest version CNC milling machine of Linsinger. Maximum guarantee of motor processing accuracy to ensure the motor's excellent mechanical performance.
2. Formulation and molding process of high-performance stator rubber
Following the Deer-Alder reaction principle, Katwell has independently developed series of high-performance stator rubber formulations suitable for oil based, water-based and high-temperature complex drilling environment to provide guarantee for diversified drilling demands.
3. Qualified research team and technology accumulation
Professional technical team including condition analysis, formula development and process design

Testing, analyzing and simulating equipmen

Customized Design
4. Profound accumulation in rubber technology
With the help of spray technology used on the rotor surface, the innovative coating has excellent corrosion resistance and wear resistance, meanwhile, reduce the friction coefficient greatly, protect the stator to improve the service life.Currently, conservative evaluation of service life can be over 1000 hours, reaching the international advanced level.
5. Large torque and long-life mechanical transmission system
Motor exploration in the field of universal shaft covers from cutting flapper cardan shaft, the torsion shaft to the titanium alloy ball joint cardan shaft all kinds of structure forms.
With rich design experience, Katwell put forward the change between the parts of "line contact" for "surface contact" by KALSI seal structure and the form of new type of hinge joint cardan shaft and the shaft assembly, which prolongs the service life greatly.

Specification
Model

OD

Displacement

RPM

Pressure

Drop

Torque

Max.

Torque

Recommended

WOB

Max.WOB

Max.

Power

Length

Connection

Pin

Box

inch

mm

L/s

r/min

MPa

N-m

N-m

kN

kN

kW

m

API REG Box

5LZ43×7.0

1 3/4

43

0.5~1.5

120~360

4

120

180

6

12

4.5

3.5

1

1

5LZ89×7.0

3 1/2

89

2~7

95~330

4.1

560

980

18

37

19.35

4.67

2 3/8

2 3/8

C5LZ95×7.0Ⅱ

3 3/4

95

5~13.33

140~380

5.2

1200

1920

35

70

47.8

5.49

2 7/8

2 7/8

C5LZ120×7.0

4 3/4

120

6.67~20

80~240

5.2

2500

4000

55

100

70.5

7.21

3 1/2

3 1/2

C7LZ120×7.0

4 3/4

120

6.3~18.9

60~180

4

3150

4735

55

100

59.4

7.21

3 1/2

3 1/2

C4LZ172×7.0

6 3/4

172

18.93~37.85

150~300

7

6320

10110

170

340

198.55

9.29

4 1/2

4 1/2

5LZ172×7.0

6 3/4

172

18.93~37.85

100~200

3.2

3660

5856

100

200

76.6

6.52

4 1/2

4 1/2

C5LZ172×7.0Ⅱ

6 3/4

172

18.93~37.85

100~200

4.5

5150

8240

150

300

107.8

7.87

4 1/2

4 1/2

C7LZ172×7.0Ⅱ

6 3/4

172

18.93~37.85

85~170

4

5860

9380

150

300

106

7.87

4 1/2

4 1/2

C7LZ172×7.0Ⅲ

6 3/4

172

18.93~37.85

85~170

4.8

7032

11250

150

300

127

8.77

4 1/2

4 1/2

C5LZ197×7.0

7 3/4

197

22~36

100~160

5.2

8890

14220

145

290

150

8.77

5 1/2

6 5/8

7LZ197×7.0

7 3/4

197

22~56.78

56~146

2.5

7409

11854

120

240

112

7.27

5 1/2

6 5/8

7LZ203×7.0

8

203

22~56.78

56~146

2.5

7409

11854

120

240

112

7.27

5 1/2

6 5/8

C5LZ216×7.0

8 1/2

216

28~56.78

105~210

5

10700

17100

200

360

235.3

8.29

6 5/8

6 5/8

5LZ244×7.0

9 5/8

244

50.7~75.7

90~140

2.5

9300

16257

210

400

136.3

7.8

6 5/8

6 5/8

C7LZ244×7.0

9 5/8

244

50.7~75.7

50~75

3

20410

32600

210

400

160

9.7

6 5/8

6 5/8

4LZ286×7.0

11 1/4

286

40~75

110~206

4.4

13000

23395

210

400

280

8.91

7 5/8

7 5/8

K5LZ95×7.0

3 3/4

95

25

130~260

2

1000

1600

30

60

27.2

5.8

2 7/8

2 7/8

K7LZ172×7.0

6 3/4

172

60

130~260

2.4

6000

9600

150

300

163

6.7

4 1/2

4 1/2

H5LZ172×7.0

6 3/4

172

18.9~37.8

110~220

3.3

3925

7850

100

200

90.4

5.7

4 1/2

4 1/2

H5LZ203×7.0

8

203

22~36

100~160

3.5

5550

11090

150

300

93

6.26

5 1/2

6 5/8